Skip to product information
Garvey (he/him) is 6'1" and wears a size Red

Raiden (he/him) is 4'10" and wears a size Blue

Raiden (he/him) is 4'10" and wears a size Blue

Garvey (he/him) is 6'1" and wears a size Red

Garvey (he/him) is 6'1" and wears a size Red
ClHu Redo
Track Pant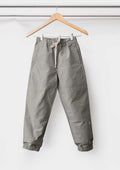 New and unworn sample ...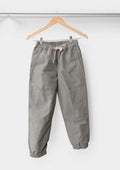 New and unworn sample ...
Details

60% Cotton
40% Nylon

Please note that this style runs narrow in the hips
Fit & Sizing

We're launching with seven sizes that range from a traditional Youth 10/12 to an Adult XXL. However, you won't see reference to those sizes on our garments. Instead, you'll find our color-based scheme that we hope you find intuitive. In case you need help, we've created a conversion chart and provide detailed garment measurements to help you find the best fit for YOU.
About ClHu Redo
ClHu Redo represents a new chapter for pre-loved clothing: A platform where community comes before consumption, where every garment carries a unique story and every item has a chance at a second (or third, or fourth) life. Pass it on...
Sell Now
Buy better, buy less.
Our clothes have a history. It's the story of life itself: never linear, always more complicated than you expect. ClHu reminds us of our shared humanity because in every preloved garment, there's a story.

Through the ClHu Redo program, it's up to us to pass on clothes and the stories they carry to the next human. Do this by reselling directly through our peer-to-peer resale marketplace. A win for all.
Learn More